Project Erasmus+ Sport
Dance for your health, live your heart passion
The project addresses as main theme the valuing of the sports benefits for the public health and it promotes education in and through sport with special focus on skills development. The project supports through all its activities the education for health, for dance athletes and among the population in general. Promoting concrete information about the benefits of sport and especially dancing on mental and physical health would even bring more motivation among citizens.
The project addresses the objectives of the White Paper on sport and the Pierre de Coubertin action plan (2007) such as "enhancing the societal role of sport, promoting public health through physical activity, boosting volunteer activities".
Physical activity, health and quality of life are closely interconnected. The human body was designed to move and therefore needs regular physical activity in order to function optimally and avoid illness. It has been proved that a sedentary lifestyle is a risk factor for the development of many chronic illnesses, including cardiovascular diseases. Furthermore, living an active life brings many other social and psychological benefits and there is a direct link between physical activity and life expectancy, so that physically active populations tend to live longer than inactive ones. Sedentary people who become more physically active report feeling better from both a physical and a mental point of view, and enjoy a better quality of life, as stated in the EU Physical Activity Guidelines.
The project aims to increase the participation in sport activities through dance as a practical solution for preventing health problems and raising the sport performance.
The project will take place during January – December 2019 and it includes: 
Preparatory Transnational Partners' Meeting
Preparatory Transnational Partners' Meeting
9 - 10 February 2019, Iasi, Romania

The Preparatory Transnational Partners' Meeting supported direct communication among the partners on the project activities to set up all the frameworks and necessary information within the project consortium for the good implementation of the project.
The meeting included an informative session to increase the participation in sport activities through dance as a practical solution for preventing health problems and raising the sport performance with the young members of Kasta Morrely Star Sport Club.
Health and safety training for dance athletes from the communities involved
Health and safety training for dance athletes in Iasi, Romania
Topics approached: health and hygiene, health care conditions, nutrition for athletes for performance and for leisure, how to prevent and cure body injuries, norms of safety and security in sport, prevention of hazards and accidents.
Trainers:
Petronela Paraschiv – Sport teacher at Technical University "Gh. Asachi" Iasi
Bogdan Sumulanschi – Kinetotherapist at Kinetic Sport & Medicine
Corina Laptes - Multi-Qualified Coach in Sports Dance, Referee - Romanian Dance Sports Federation
Mariana Oniceanu – Psychologist at Iasi Public Health Directorate
Summer educational programme, taking place at Muncel Camp, Iasi County and at the Ecological Paradise "The green girl" Complex, Botosani County.
The Kasta Morrely Leadership Summer Training Camp Agenda included educational activities such as: Sport activities and sport team games, DanceSport, Educational Contests, Politeness and Behavioral Elegance, Fashion Theater®, Final Assessment Performances.
"We have included in the training camp agenda also dance, because the dancesport enjoys a number of benefits including: improved heart and lung condition, muscle strength, better coordination, flexibility, balance, improvement psychic functioning, more self-confidence and self-esteem and better social skills." Trainer Corina Lapteş, National DanceSports Champion.
Health and safety training for dance and sport athletes in Sivas, Turkey
Topics approached: safety training methods, methods and steps of keeping our body healthy and fit, how to prevent and cure possible body injuries in sport, how to eat correctly when we are involved in sports.
Trainers:
Mr. Gokhan YILMAZ - fitness coach
Mr. Omer Yildiz – sport coach
A specialty sport circuit in Romania, North Macedonia and Turkey with the involvement of coaches from dance clubs and project partners staff
27 – 29 May, Iasi, Romania
06 – 10 June 2019, Skopje, North Macedonia
06 – 08 September Sivas, Turkey
Specialty sport circuit
27 – 29 May, Iasi, Romania

The Specialty sport circuit involves coaches from dance clubs and project partners' staff and supports the transnational cooperation among Sport dance clubs from Romania, Macedonia and Turkey.
Coaches from each partner community support informative and practical stages of preparation. Dance athletes of performance and for leisure and representatives of dance sport clubs exchange practices, methods and training techniques, specialty information in different dances such as DanceSport – standard, latino and modern dance.
Monika Stojmanovska - Macedonia
"Hi, I'm Monica. I come from Skopje, Macedonia. I'm 23 year old and very passionate about the dance. My beginnings and love for the dance were expressed from a young age. For now I am 10 years since I actively engage in dance as a sport activity. In the first grade I started with the modern dance, then quite accidentally I enrolled in Latin dance. I learned to dance Latin American dances like cha, samba, rumba, bachata, salsa and others. Over the years and experience, the body is relaxed and free to catch all dance moments. All matches and performances are only for the construction of a person. As an older I have repeatedly tried different dances such as zumba, regheton, hiphop and others. Now I am an advanced level in the regheton that totally expresses my personality and a zoo-choreographer that highlights my joy and smile."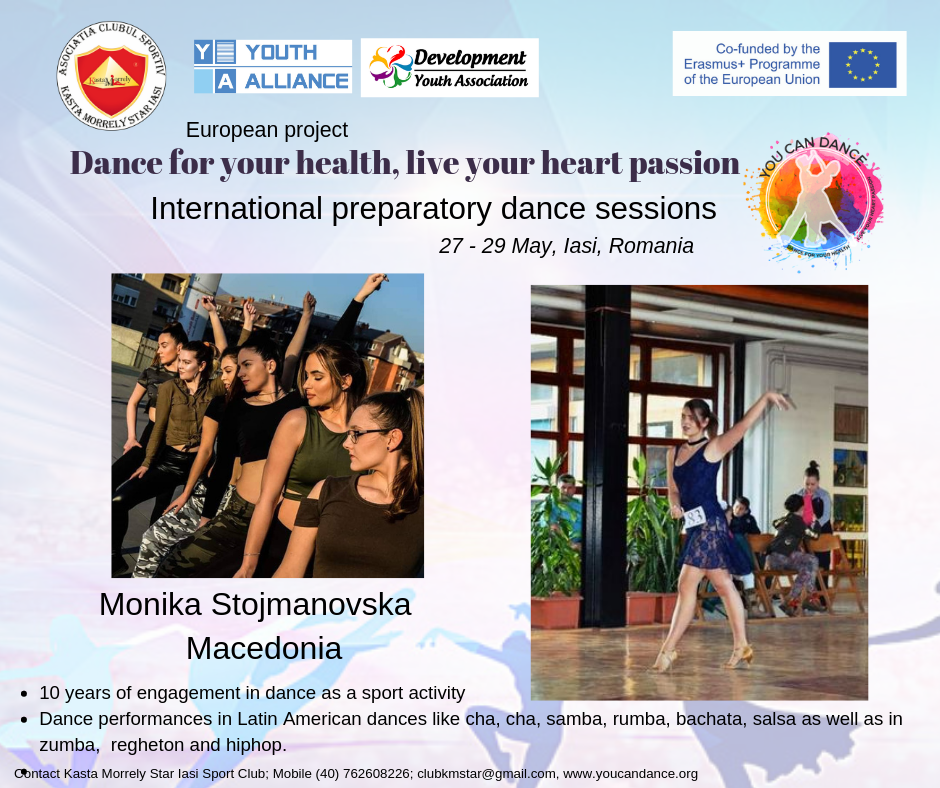 Aysenur Kuzu - Turkey
"I am Aysenur, 21 years old, live in Sivas province which is located in central Anatolia region in Turkey. I have studied at coaching class in Physical Education and Sport Department of Cumhuriyet University in Sivas. I love dancing very much. For that reason I have taken tango, salsa and valse classes at my university. Besides I have been giving step and zumba courses in Development Youth and Sport Association for 3 months. I am a member of Cumhuriyet university dance team. We are taking part dance competitions and represent our university. Also we organise dance shows and performances for university students. I would like to work voluntary in different sport centers in order to raise awareness of pupils and young people about importance of dancing in their personal life and health."
Specialty sport circuit
06 – 10 June 2019, Skopje, Republic of North Macedonia
The Specialty Sport Circuit in Skopje successfully included communication sessions on the project management; specialty session dedicated to exchanging methods, practices and techniques in tango, dance sport and zumba with the involvement of the dance trainers Aleksandar Mitrov – tango trainer, Skopje, Nroth Macedonia, Corina Laptes - Kasta Morrely Star Sport Club from Romania, Ayşenur Kuzu; dance sessions taking place at Tancov Club Sonrisa where the dance trainers Corina Laptes, Aysenur Kuzu - Development Youth and Sport Association from Turkey and Dimitar Mishev - Sonsrisa Dance Club from Skopje, North Macedonia shared their expertise and techniques in dance to the dance athletes and developed dance choreographies on latino - cha cha, salsa, bachata and step zumba; study visit at the National Competition on modern dances in Skopje, Macedonia. The activity brought rhythm, dynamics, choreography, lots of energy and above all, passion for dance and increased awareness on the importance of sport activities for good health and social development.
Corina Lapteș, Romania
"I'm Corina Lapteş, President of Kasta Morrely Star Iaşi Sports Club, Multi-Qualified European Coach, Multiple National DanceSports Champion, Referee - Romanian DanceSports Federation, licensed in Physical Education and Sport Faculty Iasi, Master Fitness and Physical Aesthetics. I am dedicated to Dance Sports and constantly involved in international, national and regional contests of DanceSports; competitions with participation as FRDS referees; sports competitions, training camps, sports-educational events; educational cultural events, educational projects, festivals etc. I believe in the benefits of dance for good health, lifelong learning, increased participation and equal access to sport for all. "
Specialty sport circuit
06 – 08 September Sivas, Turkey
The Specialty Sport Circuit in dance included preparatory and communication sessions on project management and good implementation; international preparatory dance sessions where the trainers Corina Laptes – Kasta Morrely Star Sport Club from Romania and Marija Lukarevska - Sonrisa Sport Club from North Macedonia have taught young dance athletes from Sivas Sanat Konağı and Development Youth and Sport, dancing techniques and choreographies in cha cha and zumbaton; specialty development by exchange of dancing methods and techniques among the dance trainers Corina Laptes, Marija Lukarevska and Aysenur Kuzu. The dance sessions with the young dance athletes from Development Youth and Sport have ended with great choreographies and full of energy and motivation of active involvement in sport activities through dance.
Marija Lukarevska, Skopje, North Macedonia
"My name is Marija Lukarevska, I come from Skopje, Macedonia, and I started my dance story with the basics of ballet when I was 6 years old. Then, I continued to explore the world of Latin and standard dances, such as English waltz, jive, cha-cha-cha, samba and lambada, which definitely made me fall in love with dancing. At the age of 12, I experimented with hip-hop and modern dances. After a few years, my love for dancing created a fusion with my love for theatre. Thus, I became the choreographer of the dance performances in more than 10 theatre plays. In 2014, the dance club "Sonrisa" opened new doors for me. It introduced me to the Latin social dances and taught me Cuban salsa, reggaeton and bachata. For three years now, I have the opportunity to teach zumba step, reggaeton and bachata in "Sonrisa". I firmly believe that dancing is the most sincere form of expression and I always encourage my students to feel the rhythm and embrace the freedom that only dance can offer."
Awareness campaign with open sessions of dance and in online environment
The campaign promotes dance as best sport for those anti-sport, the benefit of sport for health and the opportunities for citizens to do sport in order to increase the participation in sport.
The core of the campaign was represented by the 9 open sessions of dance that took place during September – October 2019 in each community involved in the project, 3 sessions in each of the following cities: Iasi, Romania, Skopje, North Macedonia and Sivas, Turkey.
The sessions had an attractive, citizen friendly and dynamic approach by the dancing lessons in the open spaces where the dance athletes have performed publicly open dance choreographies being spontaneously joined by the citizens around. The sessions included group and pair dances, different types of dance styles from latino (samba, cha cha) to standard (Viennese waltz, tango), reggaeton and zumba as well as other popular dance choreographies such as Minnions, Toca toca, Azukita and even some traditional dance steps.
On the places of the dance sessions it was organized as well an info point where the citizens received from the young volunteers involved informative leaflets Sport is health on the practical benefits of sport for health, with focus on dance. The participants received also questionnaires regarding their perception on practicing sports and on the open session of dance.
The awareness campaign in the online environment has been developed mainly through the social media channels by the Facebook page You Can Dance https://www.facebook.com/youcandanceproject/?modal=admin_todo_tour, Instagram page You Can Dance, promotion in media and the project website. The social media represents an important tool of promoting the project activities as well as messages of interest regarding the benefits of sport and different examples of sport activities, mainly through dance.
A demonstrative event with dance performances and choreographies
Partners' Final evaluation meeting in Iasi, Romania